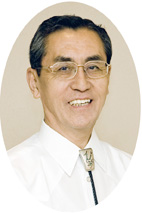 W
elcome to Home Page of Chiyoda Square Dance Club, Tokyo, Japan. The club was named after Chiyoda Ward which is one of 23 wards of City of Tokyo and where the club is located. We are one of about 27 square dance clubs which exist in the greater Tokyo district and its vicinity. Year of 2018 falls on the 46th anniversary of Chiyoda SDC.
The regular dancing session at the club is held at the Mainstream level every Wednesday and the Plus level on Sunday every two weeks throughout a year. More than 300 members enjoy square dancing at the average attendance of over 200 members every Wednesday evening.
If you are reading this Home Page outside Japan as a possible transit visitor to the country and love the square dance, then please come to join us in your stopping off at Tokyo. Single, married, male, female, young or senior whoever you may be, just come on in attire as you like. And let us Circle left with hands joined and Promenade with smile on your face to share big fun with our fellow members.
If you are a beginning square dancer or not-experienced person as resident alien in Tokyo area but very much interested in SD, you are quite welcome to join us, too. You cannot speak Japanese? It does not matter. You can learn to square dance soon by way of assistance of our friendly and courteous fellow members. Big opportunity of square dancing in the central Tokyo every week is just around the corner for you.
For further details please proceed with the other pages. We are sure you will see what the club is.
Thank you.